Charichari aims to create a safe and comfortable environment for our customers to use bikes safely, and for everyone in the city to be able to get around safely and comfortably.
For our principle, we would like to introduce the rules of Charichari service and the rules and manners of rinding bikes in Japan.
Charichari Rules
End a ride at the port
You can use Charichari with the app to check nearby ports, bike types and availability, and unlock your bike from the app.
When you finish using the service, check the port and bike parking availability near your destination, and return your bike to the port to finish your ride.
Please refrain from parking bike in prohibited areas and other prohibited activities.
Bike rules and manners
1. Keep left and ride with traffic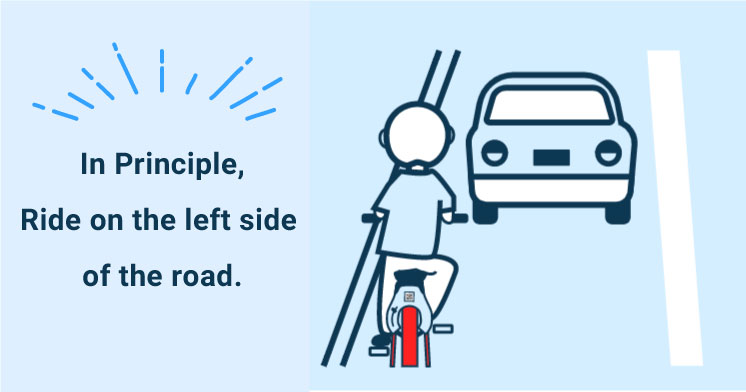 Under the Road Traffic Act, bikes are considered "vehicles," so in principle, bikes should ride on the roadway where there is a specifit lane between sidewalks and roadways.
However, bikes may pass on sidewalks in the following cases.
When designated by road signs or road markings
When the driver is a child under 13 years old, an elderly person over 70 years old, or a disabled person
When it is unavoidable in view of the roadway or traffic conditions
On sidewalks, drivers must slow down on the portion of the sidewalk closer to the roadway than the center of the sidewalk. Bike users must pause when obstructing pedestrian traffic.
2. Observe traffic signals and pause at intersections to ensure safety
At intersections, you always need to obey traffic signals. If there is a stop sign, please be sure to pause and check for your safety.
3. Turn on your bike light at night
Bike lights not only illuminate the road ahead, but also serve the purpose of making your presence known earlier.
Charichari's bikes automatically turn on its light according to the brightness of its surroundings. In the unlikely event that the light does not turn on at night, please use another bike.
4. Drinking and driving is prohibited
If you had alcohol, you are not allowed to use the bikes. If you plan to use a bike, please do not drink alcohol.
5. Wear a helmet
You are required to wear a helmet when using a bike. To protect your own life, wear a helmet when riding a bike.
Make sure that anyone under the age of 13 wears a riding helmet when riding a bike.
In addition to the five rules for safe bike use, the following activities are prohibited by law
Riding while using a smartphone or listening to music
Riding a bike with two other riders
Driving with an umbrella
Riding side-by-side
Please use Charichari service in accordance with road traffic laws and local rules.